This past Wednesday we headed to Splash Kingdom with our friends the Bills, Cowarts & Medders! The boys were so excited to go again, we haven't been able to go as much has I would have liked due to the fact that we have been GONE so much this summer!!! (No complaints) :)
The boys had SO much fun with all the kiddos! The only bad part was the HEAT!!! It was terrible!!
It really must have worn these two out! They conked out right after we drove through my favorite place TACO CASA which Canton just got! Exciting!! Ha!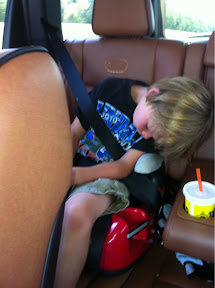 I hope we have a few more SK trips before this summer is over, it's going way to fast!!