Yes, this is from the beginning of August and I am finally trying to catch up! On Saturday August 6th our road trip continued. We left Hattiesburg and headed toward Florida, but not before we made a stop at Krispy Kreme! Yummy! The boys loved watching the donut machine, and the donuts were FABulous!!
We FINALLY arrived in Destin, got the motorhome all set up. Our
RV Resort,
was super nice and just steps away from the beach. The boys couldn't wait to get out on the beach!
The beach will wear you out, and thankfully this little man had no problem napping daily on the beach. He is defiantly my calm, laid back child :)
We had many great dinners out in Destin, lets face it, it is one of the best parts of vacation!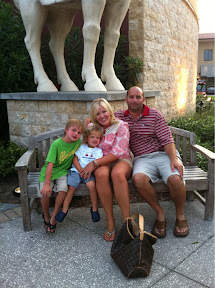 We spent one afternoon at one of my favorite places, Seaside. It is just right down the road from Destin and the most picture perfect beach town. Great shopping, eating, and entertainment in a quaint little setting. Here we are having lunch at Bud & Alley's Pizza.
One of Jack's favorite beach toys ended up being the flippers & snorkels, all the big boys had sets and Jack's Nana knew he couldn't be left out! I should have know he would love them, he is my "dress up" child, HA!!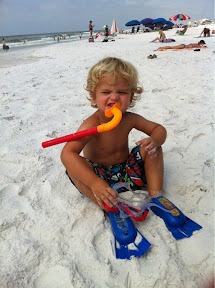 We had dinner at Fisherman's Wharf, right on the water. It was a fun night, during dinner we had a flyover plane show and a dance contest that for Jack never ended!! We had to drag him off the dance floor!!
After dinner we walked down to the Harborwalk to watch the fireworks show. It was so crowded, but the boys really enjoyed it. As we walked down the Harborwalk we saw some
amazing
boats, Ryan was in HEAVEN!!
Barrett tried his hand at surfing and it was pretty hilarious!!
On our last day we met up with our friend the Medder's who were also vacationing in Destin. We had lunch at the Hog's Breath before we headed out for the LONG trip home.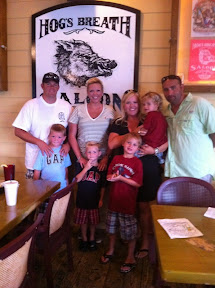 We had an absolute fabulous trip! I love it when the boys get to spend time with their cousins and Nana. We were there for 7 days, but it flew by. We did have some family portraits taken while we were there, but I haven't gotten them back yet, so I will post those later. It was a great way to end the summer!!