On Sunday we left Nacogdoches for the last leg of the journey. We had one last stop to make a Rough Creek, Monday our granite was being put in!! YEA!! We arrived a RC and the boys had a blast back in their working, dirt, & tractor element. We had a great evening relaxing on the porch and watching the boys play. I had just put the boys to bed when Barrett ran out screaming "my tooth fell out"!! It's crazy this child has not lost a tooth at our house. He has lost 5 teeth and all of them were when we were out of town, except for one that he lost at school.
I sent this picture to my Dad and he responded with, "who is that homeless man". EXACTLY, he looks so awkward, poor baby.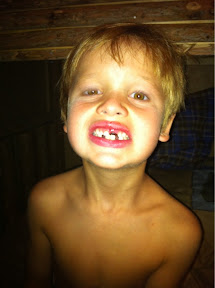 Of course he didn't care how he looked. He was to concerned that the tooth fairy didn't know where RC was located.
I did have to leave before the granite was finished, but when I left it was looking great! I was thinking of saving the pics anyway for the final reveal, who knows! Monday morning we were finally HOME bound, with a busy week ahead!