We set out bright and early Friday morning for a day of driving.
We headed to Shreveport for lunch at our favorite place, The Superior Grill!
After lunch we made a stop at Bass Pro Shop,
of course
.
We then got back on the road and drove on to Hattiesburg. We decided to have dinner at The Shed, a BBQ place I had read about somewhere.
Jack had a blast, he was standing in his seat dancing around!
He most defiantly takes after his Mommy, ha!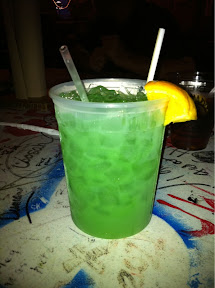 Mississippi swamp water!
. It was huge Anna & I shared it :)
The food was good, and it was fun we even had a visit by the King himself! Until tomorrow, the road warriors are OUT!