Thursday the 18
th
was "Meet the Teacher" for Barrett, I was super excited for him to meet his teacher, Mrs. Cantrell. I met her a few day prior at a teacher luncheon we did at the school. He was very excited and he was so ready to give her the gift that we/ I made. HA! I can't take credit for this I found the idea from a blog I read, and it was also on
Pintrest
. I thought the gifts turned out super cute!
We met his Mrs. Cantrell and she was so sweet, and he has a great class!! I know it's gonna be a great year. After "Meet the Teacher", we headed over to the stadium for "Meet the Eagles". Here is Barrett and his friend
Keatyn
.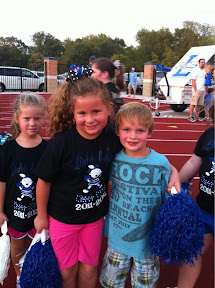 They boys on the
LoneStar
/Longhorn horns, that we take and blow at the games.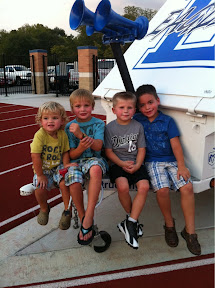 Barrett, Jack and
Kinley
Nance!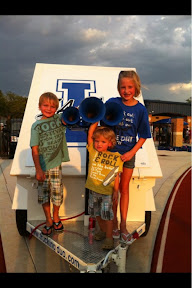 The kiddos had a blast running all over the field at Meet the Eagles, we were hoping it would wear them out. A group of us decided to run to
DQ
to get some food after the event and it was SO crowded, who knew
DQ
was so popular?! Barrett asked Braden to come spend the night with us.