On Thursday, Jack was finally feeling better after his bout of the sick bug. We had a few errands to run in Tyler and then a belated birthday lunch date for me with Ashley. Jack just had to have a cookie at the mall, he saw the pumpkin and it was over, HAD to have it!! By over I meant his clothes, over for the day, ugh!! We had a fun lunch at Chuy's with Ashley!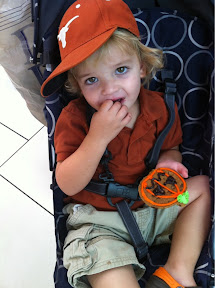 When we picked Barrett up from school it was time for haircuts! Our last stylist is not working anymore and we had to find a new one. We went to see Amanda at Serendipity. Jack has only had his hair trimmed like once or twice, never really cut. I decided that it looked pretty dead and needed a good cut.
He did so great!! She said both boys were very well behaved!! Barrett was being as helpful as always by sweeping up all the hair. He loves to sweep,
just not at home
.
Here are the boys after their haircuts!!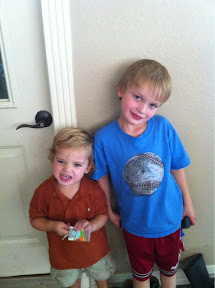 Sweet Jack! OH, his sweet long curls are gone, it's gonna take a while, but I just might make it! HA!!