On Thursday October 13th Ryan and I celebrated our 10 year anniversary. WOW!! That is hard to believe! What a WONDERFUL 10 years it has been, I am so truly blessed!! Our day started out like any other Thursday, Ryan took the boys to school for me, while he was gone these beautiful roses were delivered to me. Who knew florists delivered that early?!?
Ryan and I headed to Dallas for a mini trip. Ryan had a little business to take care of first so we made a quick stop at the Ford Auction in Ft. Worth.
Now, most of you girls are thinking, hmm, that doesn't sound very fun.
Well, let me tell you! As any
true
shopaholic knows most ANY shopping can be fun. This is most ALWAYS true for me, I love going to the auction to buy cars, it's fast paced and tons of fun! HA!! After our business was taken care of, we headed to North Park for some lunch and shopping.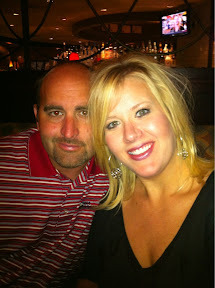 Yes, this is seriously the only picture I took of us together?!? I guess I was enjoying our time together and not concerned with pictures, who knows!! We had lunch at our FAV P.F. Changs, not very original but we love it! After lunch my AH-mazing husband took in into the L.V. store and told me to pick out whatever I wanted!! MISTAKE, HA!! I choose the "Artsy", I have been eyeing it for a while now. THANKS Babe!!!
Ryan even did a little shopping for himself, which is completely out of the ordinary, but much deserved!! After we were shopped out, we headed to check into our room at Hotel Zaza! I was so excited to stay here, we had never been and it did not disappoint!! We stayed in one of the concept suites and it was amazing!! I tried to snap a few shots of the room, but like I said my picture taking was lax on this trip:)
We had a wonderful dinner at Truluck's another one of our favorites it was so close to Zaza that we just walked over. The only problems was that we were like ONE day early for stone crab at Truluck's!! It was arriving like THE next day, UGH! HA!! Oh well, just an excuse to go back really soon!! It was such a fun night we reminisced about all the has happened in our 1o years together. We are so blessed to have found each other at such a young age and to still be SO in love and happy!!! I am such a lucky girl!!!! Happy 10 years BABE, looking forward to many, MANY more!!!!