We spent another wonderful weekend at Rough Creek. The weather was wonderful, we are trying to finish up a few projects before the boys party in a couple of weeks. We took full advantage of the cool weather and burned our first fire in the fire place.
The boys had tons of fun working..........
A working football player,
who knows??
?
This is thing of beauty, Ryan had our well set up and it's finally pumping water to our VERY dry pond! The water is clear and cold!!
This is the water traveling down from the rock river to the pond, it will take a long while to fill up, but it's definitely better than waiting for the rain to do it!!
My husband has created a monster, this boy is no longer satisfied by power wheel toys, he prefers the
REAL THING!!
My sweet Jack, the man loves a hat.... it doesn't matter what the type, he wears them all!
On Saturday night we decided to have an outside fire, so Barrett built us the first fire in our fire pit.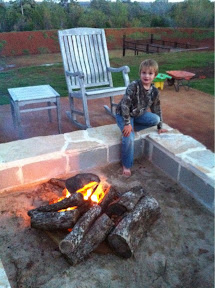 We had dinner outside by the fire, followed by roasting some marshmallows!! It was a great weekend with my boys!