So I am finally trying to catch back up after a week of not blogging, so this is a little catch up on our week. I posted a few from last week below this post. To be honest I don't really remember what we did on Monday. On Tuesday I started back with my trainer for personal training sessions again. Let me just say, when my legs started hurting while I was still training I knew it was gonna be BAD!! HA!! After school I caught the boys trying to make some homemade stilts?? Who knows, I looked outside to find them like this.........
Crazy boys!!! I guess the get and A+ for imagination! These little cones were stuck on Jack's feet, it to me a while to get them off!! Poor Jack was sick all day on Tuesday he had to miss school and it was not a pretty day around here if you know what I mean.
Anna brought the boys back these Rangers "antlers" from a game and they have had a ball wearing them around watching the World Series games!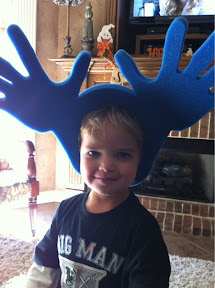 By Thursday morning the sick bug had hit me. I woke up and felt terrible! Ryan took the boys to school for me and let me rest. I had to get better because I had Jack's early bday celebration at MDO and Barrett's open house later that evening. Luckily, I had picked up Jack's cake pops on Wednesday so I literally slept all day Thursday until 2 o'clock when I went to Jack's school. Here are his precious Camo cake pops!!
They turned out so cute and they were Delicious too!! Jack was so excited to see me come in to his classroom with his "take pop", HA!!
The cake pops were a hit, much easier clean up than cupcakes or cake and just the right size for these little ones. We then headed home and got ready for Barrett's open house. It was so fun to see how excited Barrett was to show us around his school, he is doing great and really enjoying school. I should have taken some pics, but to be honest, it's all I could do to get through the hour or so I was there. Ugh, being sick and sore from the trainer is a BAD combo!!
On Friday, thankfully Jack and I were feeling better! It was a good thing because on Friday my baby boy turned 3!!!! Ahh, seriously, someone stop the clock!! Jack is such a blessing to us, he is a true second child. Fearless, smart, funny, handsome, I could go on and on!!! Love that boy so much!! While Barrett was at school Jack and I had a Mommy son day. We ran some errands and had a birthday lunch.
We headed to Cavender's, Jack's favorite store these days, so he could pick out his birthday present. It's so funny because most three year olds would prefer to go to the toy store for their birthday gifts, not my boys. They are OB-sessed with hats, boots, tools and tractors. Oh wait, and GUNS!! Anyhoo, they do have some toys guns and tractors at the store and I thought he might want to pick out something.
Oh NO, not my boy!
He picked out a new hat, some "football boots", and as we were headed to the checkout he spotted these fashionable camo chaps!!
Seriously!?!?
HAHA!!! I asked him why he called them football boots and he simply answered, "bwue"! Actually Jack, you are correct, they are Lindale blue on the top, so he associated them with football. So funny!!
We were all looking forward to the friday night football game against Van, it was PINK OUT night! Pink Out against breast cancer, so everyone wore pink to the game. The boys loved getting the train horns all ready for the game!
Even my sweet husband had on pink!
It was a great game, full of excitement and great plays! Both teams were scoring like crazy!! In the end the Eagles were victorious!! Go Eagles!!!!
Since I didn't blog all week, I missed my "Friday Favs"
(which I missed a lot lately, but who's counting).
I do have one fav, my new camo hats! Ryan got me some girlie hunting hats, with our logo's. If your going to hunt why not look cute doing it I say!!