After making it home from our never ending trip, I was so glad to be back in my own bed! About 2am on my BIRTHDAY, I was awoken by a sick little boy who told me news that no Mom likes to hear, "Mommy I'm sick." AHHHHH!! My poor B was so sick, I changed his sheets and got him cleaned up and back to bed. He woke up like normal the next morning and said he felt better, he couldn't wait to show me the surprises they had made. I pretended like I hadn't seen them the night before, the boys made cakes, banners, and had balloons everywhere!
This was my cake from Jack.....
and this was my cake from Barrett.........
The boys also made a huge banner! I had my 50mm lens on the camera and I had to take the picture in sections.
It was a great bday surprise!! I loved seeing how excited they were to show me what they made!! Barrett seemed to be feeling better. I asked him if he felt like going to school and he said he felt normal. He had a test that day so I decided he should go. I told him if he felt the least bit sick to tell his teacher and I would come get him. Not long after I dropped him off I got a call from the nurse that he had a slight temp and he didn't feel well, so home he came :( He did however feel well enough to inform me that he DID make 100 on his test and he would get his ice cream after he felt better! So funny!!
I was just hoping that we all wouldn't get sick!! Barrett rested the remainder of the afternoon, and seemed to be on the mend by late afternoon. I knew he felt alot better when he insisted on going to the football game! So we all loaded up and headed to the game (plastic bags for emergencies in my purse) HA!!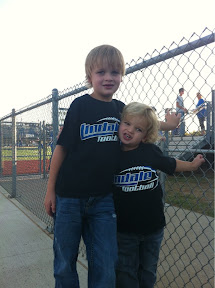 PawPaw came up to visit and he went to the game with us!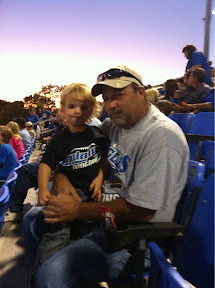 It was supposed to be a good game, but unfortunately it was only good for the other team. Our boys played hard, but it ended up being out first loss of the season. Bright and early Saturday we headed to Rough Creek for some
never ending
work.
This man was so tuckered out after a big day of work, I put him down for a nap in the BOTTOM bunk of the boys bed. I went in to check on him and
had a small panic attack
when he wasn't in the bed, then I looked up! He had climbed up top!! Never dull with these boys!!!!!!!
We
They worked..........
And worked.....
Then we played a little!!
I had a great weekend with my boys! I wouldn't want to spend my birthday with anyone else in the world!! So blessed!!