The Monday after our big adventure was a busy day! I had to go work on the lounge at one of the schools, so Anna watched Jack for me. I also had a dermatologist appt. where I had two spots removed, YUCK!! When I got home Anna told me the funniest story about Jack. She said that she put him down for his nap and he went right to sleep like usual. When she went in to wake him up so they could pick Barrett up from school, she couldn't find him. He was not in the bed or in his room, or so she thought. She said she was frantic and looked in his closet to find this...........................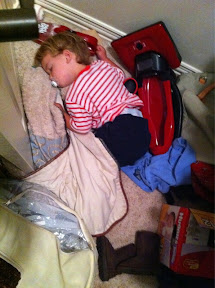 HA! How funny is this he has done this before! Such a silly boy!
We also had to go have Barrett's stitches removed that afternoon. He was a little nervous about it, but we had spoken with him and assured him that the hard part was over, this would be easy. Here is my big boys having his stitches removed.
Well, it turned out that it did hurt a little bit. The nurse said that the Dr. had tied the stitches extra tight and they kind of grew into the skin a bit. So after some work we got them all out!! Yea, B-man!!!!