Barrett had Rodeo day at school not to long ago and I am just now finishing up blogging from WEEKS ago!! HA!! Here is my sweet cowboy!
Here he is holding his hat over his heart for the national anthem and prayer, I love that he knows what to do without being told. In fact he was instructing his classmates on the proper etiquette. :)
It was a fun day, but pretty much a replay of the night before. Oh well!! Here are the boys with a few of the "Cowgirl Chicks" they are a trick riding group, they are really good!!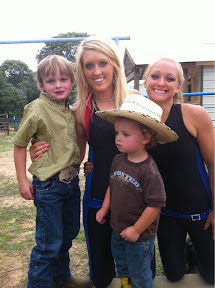 Barrett insisted on coming home with us and not staying at school, I gave in and let him, it was Friday and the year was almost over. So we played hooky and had a nice lunch with our friend/babysitter Anna! It was a good thing that I brought him home because Ryan called and suggested that we take our first road trip in the new motorhome, more to come on that!
- Posted using BlogPress from my iPhone