On Friday the 20th of May, we headed out on our first roadtrip in the motorhome!! Ryan had called me on Friday afternoon and said let's head to the Lufkin Baseball playoff game in Houston and then we can go to Kemah. I thought it sounded great so I frantically packed us all up and we headed out!!
The drive to Houston was great the boys watched movies with popcorn and both took naps, this motorhome thing was starting out great!! We got the the game during the 3rd inning, the Panther's won that game and went on to play a second game right after. It was drizzling rain and pretty miserable, so Ryan took the boys to the motorhome (
see coming in handy again).
Lufkin lost the second game and was eliminated, they played hard though. After the game, we grabbed Kolby and we headed toward Kemah. The boys and I slept the whole way there, I woke up and Ryan had found us a perfect spot in the R.V.
resort,
it was right on the bay.
I will admit, I was extremely skeptical about the whole RVing thing, the parks, the people, the stigma. I was eating my words!! The park was really nice and it is actually very convenient to do with kids.
We woke up the next morning and headed to the Kemah Boardwalk to play!


We had SO much fun! I talked Barrett in to actually riding alot of rides with me!! He was nervous, but he did it. On the first "real" ride, not kiddie ride, he was like "Mom, I'm getting dizzy!!" I couldn't help but laugh!! He kept saying it and all I could say was "DO NOT throw up!!" HA!!! The boys rode the carousel, space needle and train. Barrett and I did the high flying swings and this crazy spinning thingy. Ryan and Kolby were scaredy cats and wouldn't ride anything! We had lunch at the Cadillac Bar and then played some games. We headed home for a nap for Jack and fishing for B.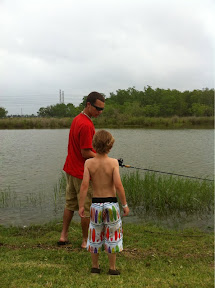 Barrett had such fun fishing and met a little boy that he friended and they fished all afternoon together. Later that evening Ryan's sister and her family, who were in Pasadena at a baseball tourney, drove down to visit and have dinner with us. To make it a family affair we called Ryan's mom who was still in Houston at the hospital with our sweet Pappy, and she took a break and drove down for dinner too!
We had dinner at Landry's, it was so yummy! During dinner the restaurant had "entertainment" a magic man. He came to our table and did tricks for the boys and made all 8 of them balloon animals!!
The next day we loaded up and headed home, we stopped in Lufkin to have lunch with my family and drop Kolby off at home.