Saturday the boys were up bright and early to head to work at Rough Creek!! Don't mind Jack he is eating his donut holes!!
My Mom, Jack and I went to have lunch in Tyler. We then had to run a few errands in the mall. It was
absolutely terrible!!!
It was like they were giving stuff away!! CRAZY! Since we were already in Tyler, I suggested we drive to Palestine/ Rough Creek to see the progress that has been made. I had not seen all the new work finished!! When I walked in I was just blown away!! It looks so GREAT!! We have the walls finished, doors and trim up. Lights are going in and the fireplace is under way!!
My parents guest cottage is almost completed too!! Dad was working hard finishing the floors in it, and then it will be ready for furniture!! So exciting!
I am just in love with this room, all the windows and our fabulous chandelier!!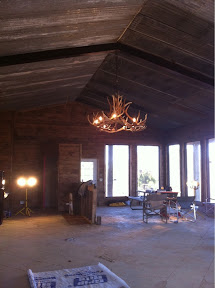 My hard working boy,
sharpening his machete!
Mr. Hollywood!!
The boys
working!!
They are just so in their element here!!
Our floor options, we choose the center one. Floors will be stained this week!!
Ryan showing me the doors and trim in the boys room.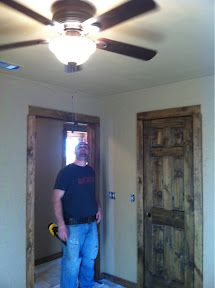 This picture is terrible, I forgot my big camera. This is looking up at our cabin from my parents porch.
For all the boys hard work, I picked them up a treat in Tyler. Their most favorite things cookie cake and sweet tea!! I love my boys so much!! They have worked so hard and built our cabin from the ground up!! So many wonderful memories have and will be made here!!
- Posted using BlogPress from my iPhone