On Friday I had to run some errands in Tyler. I called Ashley to see if she would ride with me. She agreed and so we all headed to Tyler, minus the big boys who were at school.
We made some returns and then had lunch at Cheddar's!! Yum!!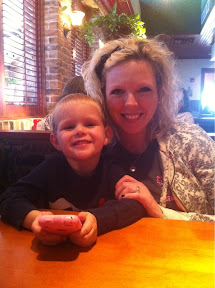 We headed back to Lindale to pick up the boys. We were dropping Ashley & her boys off at their house, and they wanted Barrett to stay and play. Ashley called a little later and said that they wanted Barrett to spend the night. I told her that was fine, but he hadn't stayed over at anyone's yet & probably wouldn't! I talked to him on the phone and told him he could stay if he wanted, he was
unsure!!
I told Ashley to call me & I would come get him whenever!! So
finally
about 10:30 she called and said he was ready to come home. I was shocked he hadn't called earlier!! When I picked him up he said he had a blast and he would stay the night next time. He said "Mom! I didn't have my stuff, I couldn't stay!". Ha!! He is growing up to fast!!
- Posted using BlogPress from my iPhone