On Friday we had Barrett's class Valentine Party! I rushed around Friday morning getting everything ready!! I took pictures of the kids and made Valentine's for them to decorate and give to their parents. Of course I waited UNTIL Friday morning to make the Valentine's, Ha! I managed to somehow get them done!!
My little Valentine's and I!!!!
The kiddos decorated cookies, decorated their Valentine's cards, and ate TONS of sugar!!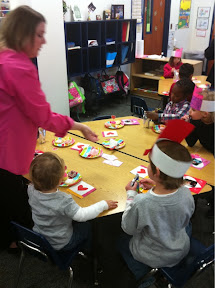 Jack was coved in pink icing!! This little man loves him some sugar!!!
After the food, the kids all read their Valentine's.
Remember those precious little iPhone Valentine's that I made for Barrett's goody bags. Well the kids thought they were so cool!! The only problem was that that all started tearing my iPhones up!! I was like NOOOOOO!!! I explained that you just open the boxes on the top, you don't have to ruin them!! AHHHH!!! Kids!!
- Posted using BlogPress from my iPhone