On Thursday my friend Ashley and I headed to Tyler for some shopping and lunch. I mentioned that I have been watching a girl on You Tube that does hair and make up lessons. Well, she also recommends and reviews hair and make up products. I needed some new shampoo; so I decided to get the products that she uses.
When "LolaMarie" shops she calls it a haul, so I guess this was a mini "haul"!! Ha!! I got a few make up products as well, I didn't get a picture them. I will post later on my reviews.
We looked for outfits for the boys Sweetheart Ball at school, with no luck. Jack did have a blast with the "puppy" at Old Navy!
We made a few returns and then had lunch at McAllister's. It was SO crowded as usual!!
After school, Ashley called and asked if I would come help her get started on eBay. The boys had a blast playing with her boys, Abram and Asher!!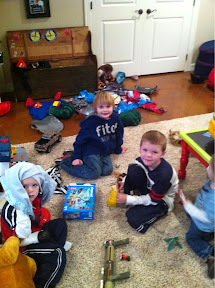 It was a great day!!
- Posted using BlogPress from my iPhone