On Friday we headed to our Deer Lease in North Texas for opening weekend there. The boys were very excited. Our NTX lease is very different from Rough Creek. At Rough Creek I feel like I'm at home, I have all the luxuries of home. In NTX we are really camping! We have no power or water, we have to take our trailer and rely on generators. Yeah, that part is not my fav, but the boys don't seem to mind! HA!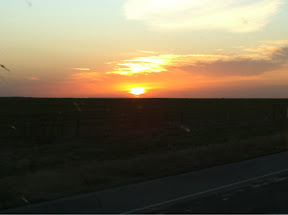 The drive is pretty long, so we arrived fairly late. We got set up and tried to get to sleep, we had an early day ahead!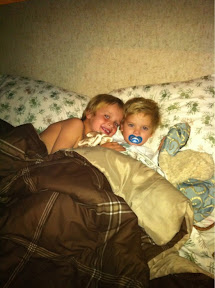 It always amazes me how fast these boys can get up and get dressed when it's for "hunting". On a normal day at home, we have wining, crying, etc.!! Here are the boys up before the CRACK of dawn ready to go.
My Boys!!
Opening morning one of our friends killed this buck with his bow. Barrett and Jack helped him find the deer. Barrett was so happy to help him bring the buck back to camp. He wanted his picture with the deer.

Here are my boys and I in the stand. Barrett hunted with me one evening, Barrett is such a talker, he has really come a long way in the stand. Don't get me wrong I do a lot of SHHHHing, but he is doing better and we had such fun watching the deer and visiting.
Jack hunted with me on Sunday morning and he is so good in the stand, he really surprised me. He does get a little loud when the deer come out. HA! "MOMMY, MOMMY wook! DEER!"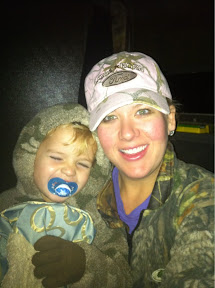 The boys just love being out in the middle of NO WHERE camping and having a camp fire. I agree it is nice, when we are there the rest of the world just disappears. It is very calming and a break from reality. I love this picture Barrett was "posing" by the fire he built.
My hunting boys!! They had a ball and I enjoyed it too! We saw a TON of deer, just not the trophies we were looking for. I so enjoyed a weekend with all my boys doing what we love!!