Yes, finally the time arrived for my completely inappropriate obsession with Twilight to continue! I am only a little embarrassed to say that I had been looking forward to November 17th for quite a while now. Ashley, Anna, Chelsey and I all braved the crowd and headed to Tyler for the midnight showing of BREAKING DAWN!!
(Sorry for the blurry Iphone pics)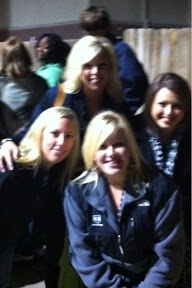 The LINE.... CRAZY!

Waiting for the show to start.

I was so worn out after a day of shopping at Mistletoe and Magic, but there was NO way I was missing this movie. The movie was the best one yet!! Yes, I am aware how old I am, and no I don't care. What a great time, with some wonderful girls!!
Now seriously, we have to wait a full year for the second part?!?