We had a very fun Friday. Jack and I took Ashley and Asher out to Posodos for lunch, her bday was this week. After lunch we all headed to Starbucks for the BOGO holiday drinks, I tried the Carmel Brulee Latte. YUM!!! We then headed back to Lindale to do school pick ups. Before we grabbed Barrett from school Jack and I had to run by the High School to pick a ticket and shirt. I totally forgot about the football teams send off and I had to pull through the WHOLE thing, I felt like a huge dork. People were looking at me and waving, HA!! The dealerships do a lot for the Athletic department so when people saw my car with the football stickers, I think they thought I was supposed to be there. OH MY!! I did snap a picture as the boys were heading to the buses, GO EAGLES!!
After school we came home and got Barrett ready to go to the playoff game. Some friends asked him to go with them to Forney, and he really wanted to go. I was worn out and didn't want to take the boys by myself since Ryan was hunting so it worked out great! My sweet B-man all ready to go!
Liz, Ryder's mom send me pics from the game. Here are the boys ready for the action to start!

Unfortunately, the Eagles were terribly defeated, I know they played hard. Barrett must have been tired, because Ryder game him a piggy back ride out of the stadium. HA!!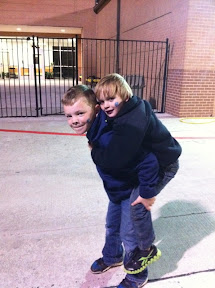 Barrett had a great time and spent the night with the Johnsons!! Proud of you B!! Liz text me and said they got along great and that Barrett was one of the best behaved kids that they had over. WHAT?!? Don't get me wrong, great news, just a little unexpected. Just kidding!! I know all kids act better away from their parents!