Last Thursday was Lindale's first playoff game of the season. We played Kaufman at Rose Stadium in Tyler. Luckily it was close to us because it was on a school night:) Chelsea and her boys Braden and Logan rode with us. We decided to go grab some dinner before the game. Our husbands were both working and were going to meet us at the game.
Sweet friends!!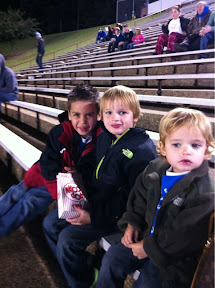 Jack LOVES dancing to the band music. He was dancing around playing his "horn", ha ha!!
We sat next to a group of our friends and their kiddos, it was a lot of fun!! The kiddos were all a little crazy and they only got in trouble for being to close to the fence 1 million times, the poor security guard had her hands full!
Sweet Jack. He took a tumble down the concrete stairs and people were gasping, he got right up and kept going. He is such a second child.
The Eagle came to see all the kids, they LOVED that! I think each kiddo also caught a football, it was such a fun game.
The Eagles won 28-38 not quite the blowout we predicted, but a WIN none the less. Friends and football, it doesn't get much better!