Tuesday November 8
th
was Barrett's 7
th
birthday!! I can't believe my sweet B is 7!! Please someone slow time down,
how do I have a 7 year old?!?
We started off his day with a yummy breakfast.
My BIG boy and I!!
Next it was present time. Daddy was in charge of this gift, so it wasn't wrapped. Gotta love a big cardboard box. HA!!
Love this face!! It's what inside that counts!
Barrett got a new bow! He was super excited, it's just like Mom and Dad's. He is ready to bow hunt now.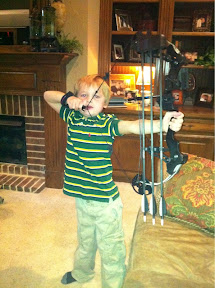 Barrett was very excited for me to bring his cookie cake to school!

Here is his cookie cake, complete with deer and gun.
Yes, I'm sure our teacher appreciated that.
Barrett with some of his friends. It was a quick, but fun birthday party. I loved it when his class sang Happy Birthday to him, they add a little "

cha

cha

cha

" in after each verse, it was so cute.
We got some much needed rain on Tuesday, thankfully! The boys took full advantage of the the mud in the backyard. Oh yes, right before dinner they decided to get

completely

filthy!!
For his Birthday day dinner Barrett chose Shogun for Hibachi. Anna joined us for dinner, we had a great time. Jack didn't care for the fire at the

beginning

, but other than that the boys loved it. Barrett caught flying food in his mouth and got to throw eggs at the chef!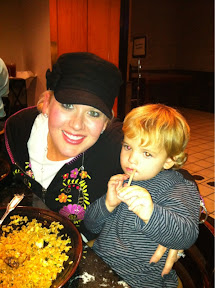 Happy birthday to my sweet B-man!! I can't believe that you are 7 and such a smart, handsome boy!! We love you so much and you are a blessing to us all each and every day!!!