Last Thursday some sweet friends and I headed to Canton for some girl time and SHOPPING!!
Me, Leslie and Jennifer! How cute does Leslie look? It is so funny because to me, her outfit is just her, nothing out of the ordinary. I kept noticing people walking past and commenting on her outfit, like "oh look at her" and "how cute is she". One lady even came up to Leslie and said "Do you you feel cute today Honey?" HAHA!! Love Leslie and her ALWAYS cute outfits!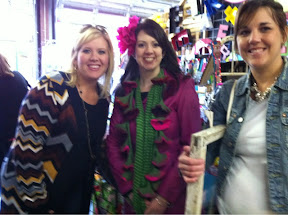 We had such a fun day!! The weather finally felt like fall and it was beautiful!! Here are a few of my purchases from the day. OK! When I saw these antlers I was like SO ME!!! These are just perfect for Rough Creek!! I mean if you have antlers why not make them fun and girly!!! Love, love, love them!!!!
Paul Michael one of my FAVORITE stores was making these wreaths, you picked out all the materials and then they made it while you shopped. Such a great idea, I loved being able to pick out my ribbon and colors!
I smelled something just heavenly and noticed a booth being swarmed with women, I looked over to see a sign that said caramel, MOVE OVER!! I love caramel!! This is a local Texas company that hand makes small batches of caramel. Neiman's sells this same caramel in their stores. OH MY! It is soooo good!!! I got salted caramel almond and caramel walnut, they are both wonderful!!
I really enjoyed our girls day! So thankful for sweet friends and great shopping!!