On Tuesday morning July 19 I had the pleasure of waking up with this little lady. It was a big day for her, and our family, it was Millie Suzanne Todd's birthday debut!!
Christie and Cragg were up at the hospital bright and early so she could get her labor started. I hung out at the house with Mimsy and Big B for a little while, then I headed up to the hospital to visit with Christie and WAIT!
Mom, Christie & I waiting for Millie to arrive!
We had a fun time visiting while we waited for Millie! I may or may not have downloaded this terrible app, that we had WAY to much fun with, HA!! Christie was amazing as usual!! She and Cragg offered to let me stay and watch the birth, since I won't ever experience "natural" childbirth (I had C-sections). I was SO honored! I was truly one of the most amazing experiences, next to my own children, I have ever had!! I was SO proud of Christie, Millie was just perfect!!! Millie was 7 lbs. and 7 oz., 19 1/4"
Mary Michael meeting her sister for the first time, she wanted to give her a kiss! So sweet!
My sweet boys were at home with Anna. They had a fun day at the pool and then came home to do some frog catching!! Poor Barrett was sad he couldn't come on the day of her arrival, but I thought it was best they came later.
On Wednesday I had Anna drive the boys to Lufkin to meet their new cousin! They were so excited to see Mary Michael and Millie!!
Mimsy holding Millie!! Just melts my heart!!
Aunt Bee with my two girls!! I love them to pieces!!
We tried REALLY hard to get just one pic of all FOUR kiddos, yeah, that didn't happen :)
Barrett was so good with Millie he wanted to hold her, like a lot!! HA!! Jack and Mimsy were not as interested, but I'm sure that will change!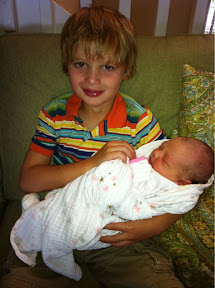 Welcome to the family Millie!! We couldn't be more excited that you are here!!