We had a fun Monday, the boys, Anna and I went to Newk's for lunch. It was actually Anna's first time at Newk's!!
After lunch we decided to go see Cars 2, since our first attempt of seeing the movie was unsuccessful. Once again we got all our goodies and were ready for the show. Barrett liked it, Jack was less interested:(. My kids are just not t.v. people which is good & bad! Ha!! We did make it through the movie, so we are making progress!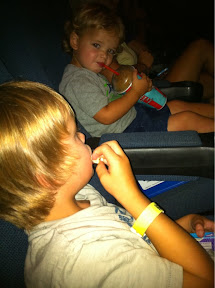 After the movie we went to pick up our new icemaker. Our old one was having some issues, so we ordered a new one. I was driving Ryan's truck & the men at Sear's loaded it up for me. It was standing up and I asked them if I could lay it down and they said NO! I was like well it's gonna fall!! They informed me they could give me some twine, but I would have to tie it down, they couldn't help?!?! Really? So I thought, oh it will be fine, it's heavy enough.
Well as soon as I turned out of the parking lot, I could see that's wasn't the case! Ha!! I pulled over and Barrett explained all I needed to do was get Dad's straps out of the tool box and strap it down!
Oh yeah, I know exactly how to do that!
Barrett got in the back of the truck while Anna and I "tried"to secure this thing! It was only about 101 degrees and we were sweating like crazy!! After a FEW attempts........
Success!!!
After that ordeal we headed home, I had to pack up to go to Lufkin. I dropped the boys off with Ryan and drove to my parents house. Christie was being induced on Tuesday morning!!! Julie, Christie and I had a great dinner at the Hole, her last dinner out for a while :)
Here were Christie & Millie right before bed!! Tomorrow we meet Millie!! Mary Michael will be a big sister & I will be an Aunt B again!!
Christie might KILL me for this picture, but have you ever seen such a cute belly!!
We are SO excited!