On Thursday July 7th we left the beach and headed to Lufkin. Our little family was ready to be home, but we had some fun planned in Lufkin before our long vacay was over!
On Friday Ryan and I took all the kiddos to the movies to see Cars 2!! We loaded up on popcorn and candy, but unfortunately the movie theater was having difficulties so NO MOVIE!! AHHH, I was a little upset, but we got our money back and free passes!
After the movies we headed home to Big B and SuSu's house and we had a special visitor, little Preston was visiting! Such a sweet boy, he really got me excited for little Millie!!
Ryan & I decided we needed something else to do so we again took ALL the kids and headed to Walmart. I had to get my food for a baby shower I was hosting. Ryan and I were laughing as we pushed this ginormous buggy, he said "And you wanted 3 kids?!?" HA!! CURED!! All you Mom's with more than two, woo, I am in awe!!
Barrett had a big day on Friday he lost 2 teeth!!! The first one was earlier in the day on our snocone run.
#1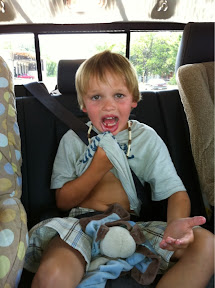 #2
We were on our way to watch Ryan's brother play ball and he yells "well that tooth fairy better give me all her money, here is another one!" HAHA, this child cracks me up!!!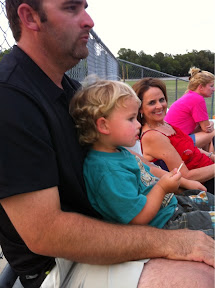 They boys had such fun at the ballpark, Barrett got to sit on the field and even got to be a ball boy!! He loved it!! Jack spent his time charming the ladies in the stands!! I think I have my hands full with him for sure!!
On Saturday was hosting a baby shower for one of my very best friends, Patti Johnson. We had the shower at her Mom's house and it was just so cute!!
Patti's sisters did a great job decorating! Her sister Becky even made the cake and it was precious!