SuSu came up today to spend the day with Barrett for his 6th Bday,which was last Monday!!
I realize that I haven't posted about his actual birthday or Jack's for that matter!
bad mommy!!
I will get to those someday soon...I hope! We let Barrett choose where he wanted to eat and he chose the dreaded "Chuckie Cheese"! Oh how I loathe that place!! Being that it was his
birthday
I gave in.
This morning while getting ready I was playing with his hair and brushed it over more than normal. I was laughing and said "oh B you look like Justin Beiber!" he had no clue what I was talking about, but agreed to pose for a pic.
We headed to "Chunky Cheese" for some fun!
Oh My
the place was packed!!
Mims and Jack had a blast on the rides and Barrett was obsessed with getting tickets!! Nothing like spending $50 on tokens to get a $5 prize at the end!! HA!!
This child is SO different from Barrett!! When Barrett was little,
who am I kidding
, even now; he like to stay pretty close to me. Jack does not care, he wandered all over the place! Scares me to death!
Leeanne came to join us and give B his gift, so sweet of her! She got B a tent which he loves and is sleeping in tonight, or so he says!!
Here is the belated bday boy with his gift from SuSu and Big B!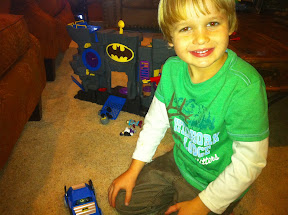 He had a fun day and looks like it will be a fun night ahead!!
- Posted using BlogPress from my iPhone