On December 9th we loaded up in the motorhome and headed to Dallas for a fun filled day! Every year for the past 4 years or so we have gone to the Gaylord Texan to see ICE. We almost decided not to go this year, just because things have been so busy during the holidays, but the boys REALLY wanted to go. We invited Ryan's sister Dori, Eric, and her boys to come with us. Our first stop of the day was Bass Pro shop to have the boys picture with Santa and do some of the activities there.
Bass Pro had some great decorations......I NEED this tree for Rough Creek!!!!!!!!
Here are the boys with Santa, Barrett looks silly and Jack well, not amused! Thank goodness we got there early for that, some people that got there after us were not going to have their pics taken until 6:00 that evening!!! Crazy! We only waited about 30 minutes, Thankfully!!
Next we moved on to the carousel of Santa's reindeer. It was so cute and the boys loved it!
Boys and toys that they will NOT be given :)
Next was lunch at one of our Fav's, P.F. Chang's!!! Yummy fun with Chopsticks!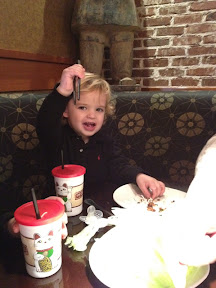 We met up with our cousins and were ready for ICE, Shrek the Halls!! All of our BOYS!!!!
Our family waiting for ICE.
The boys had SO much fun on the ice slides, they were just REALLY cold!! Barrett ended up stuck and had to be pushed down, HAHA!
After the awesome ICE exhibit we were on to the Kung Fu Panda snow tubing. I was excited about this, I won't lie. We ALL headed up to try the snow hill out. Jack was SO mad because he wanted to ride by himself but he was to small :( Barrett on the other hand, wouldn't go down with out one of us with him. HA, kids are so funny!!
Daddy and Jack racing down!!
Barrett and Aunt Dori zipping down the hill, SO fun!!
We had so much fun but the Gaylord was very, very crowded. We looked around the hotel for a few minutes and decided the crowds were to much. We left and headed out to have some dinner at Uncle Julio's. I knew there would be a wait, on a Friday in Dallas, but 2HOURS?? REALLY?!? We had 6 hungry, rowdy boys with us, yeah just imagine that please! We endured and waited outside by the fire while the boys played and it wasn't terrible. Our dinner was yummy and we had such fun catching up with Dori and Eric!!
It was a was a great day full of fun and family!!! So glad we kept the tradition alive!!