On Tuesday I headed to Barrett's school for a fun project!! I brought lunch and ate with him before we got started.
The teachers had a fun reindeer t -shirt planned.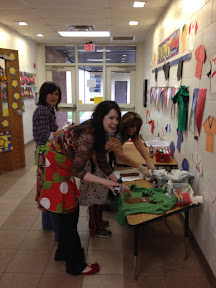 We had a lot of fun, and the kids enjoyed it! I was only a little covered in paint:) We made a lot of little reindeer shirts and a few messes, but it was worth it!
I took Barrett home early with me, which he loved. We then went to pick up Jack from MDO, he was so excited to see B come in to get him!
Yes, Jack wore his hat ALL day!
Daddy dressed him obviously!!
It was a busy day! I am so blessed to be able to stay home and do things like this for my boys!