On Thursday our day started out great! SuSu, ShiShi and Mimsy had spent the night with us, and SuSu fixed Barrett a wonderful breakfast!!
Thursday was Polar Express day at B's school, he was so excited to wear his p.j's!!
This little silly boy had a not so fun morning he woke up sick....not that you could tell from this picture! HA!
Mom and ShiShi headed home and Jack and I headed to Tyler to help pick up some deliveries for Lindale Christmas Helpers. I have so much enjoyed being involved in this organization this year!!
It was pretty comical seeing Tonya and I getting 140 turkeys and orange juices!! I was praying that the goods made it back to Lindale in the truck!!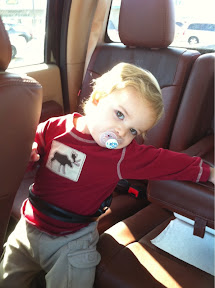 Jack seemed to be feeling better, so I thought we might not all get sick. Well when I picked B up from school he was not feeling well! :(.
Barrett got sick Thursday night and do did I. Terrible timing I am homeroom Mom and had a party to give on Friday!!
Well needless to say, we didn't make the party!! My sweet hubby's took all the party goods to the school!! He stayed home Friday, took care of all of us and cleaned the house! WOW!! Thanks Babe!!
- Posted using BlogPress from my iPhone