On Thursday June 2nd Kamden came over to spend the night with us! The boys had a blast playing and getting dirt EVERYWHERE!! Let me just say, having friends over is great for Barrett, I'm pretty sure he went the whole afternoon without the usual nagging & complaining, HA!!
After a few changes of clothes and one dirty bathtub, Kamo and Barrett finally settled down and went to bed, we had a big day ahead! On Friday the boys wanted to go to Splash Kingdom. We were there bright and early waiting in line when they opened!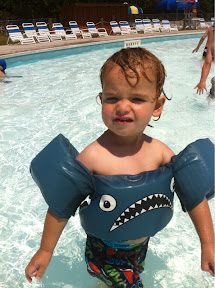 The boys had a blast sliding and floating the river! After the waterpark I tried unsuccessfully to get Barrett and Kamden to rest for their game, yeah that wasn't happening!! I would have loved some rest also, unfortunately I burned myself so bad that laying down was impossible, UGH!!
Friday evening we had our last T Ball game of the season!! It didn't seem like the season should be over yet. We had such a blast this year; great parents, great kids, & fabulous coaches!! The boys played great! Barrett had some great stops, he actually took one in the gut and caught the ball to make an OUT!!
It's no paci, but it seemed to do the trick!
Another great game!! Way to to play Longhorns!! We won our last game, a wonderful end to the season!
How cute is this! I love Kam's hand on Jack's head helment.
We ended our season with only one loss. The boys have come a long way and learned a ton! We had such a fun season!
We ended the night with yummy mexican food at Posado's!